Contemporary lawn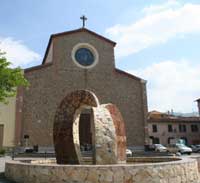 On holiday in Prato tourists will be able to discover the city under the artistic point of view. What we especially striking is that, besides being a city rich in art, history and ancient culture, Prato has become over the years an important center for the promotion and dissemination of contemporary art.
Home of the famous Center for Contemporary Art Luigi Pecci, Prato offers visitors a series of art works by contemporary artists, more or less known, scattered in the center of the city and province.
Walking through the old town tourists first noticed the work of Henry Moore, located in the garden of Piazza San Marco, Shape square-head. Entering the Library Lazzeriniana tourists can admire Pace, Marcello Guasti, while in the garden of the church St. Francis is Image or voltage Salvatore Messina.
Another characteristic work is undoubtedly the one that tourists will find inside the Museo Civico, Straight Curve of Carmelo Cappello, while inside the Teatro Metastasio has kept the work of Jorio Vivarelli, Hope.
Contemporary art is also expressed outside the city walls, especially in areas of the province. If the visitor enters the territory of the Val di Bisenzio, in particular in the village of Lucciana, notice the strong presence of works of art ranging from figurative all'astratto, performed with different techniques, from artists like Tintori, onion and Shahidi.
The Museum Park Fifth Martini is the living expression of a contemporary artist, which recounts the journey of life, shows the works and the different collaborations with the artists most popular time.
Are different expressions of Contemporary Art in Prato, which are kept alive through the intense activity shows that each year the city organizes, especially outside the premises of Farm Celle, where there are artists and promote the likes of Anne and Patrick Poirier, Sol LeWitt, Richard Long, Pistoletto, Luciano Fabro, Robert Morris, Magdalena