The Churches of Prato, on vacation between art and religion!
On holiday in Prato tourists lover of art and architecture may choose a path between the churches of Prato, where they are still perfectly preserved styles and works of the great Italian artists.
Cathedral or the Cathedral of Santo Stefano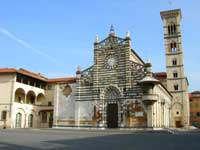 It presents a magnificent structure in Roman-Gothic style, with the characteristic Bicroma Prato, comprising alberese and green marble. On the portal you can admire the beautiful lunette of Andrea della Robbia, dating back to 1489, representing the Madonna and Child with Saints Stephen and Lawrence, respectively Compatri and patron of the city. Of particular beauty also realized from the pulpit and Donatello Michelozzo.
Basilica of Santa Maria delle Carceri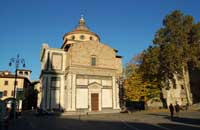 The church is located in the center of Prato and is considered one of the most beautiful architectural events in the city. The exterior of the church is characterized by a typical style bichromy Prato, the alberese and green marble, and the bell tower, designed by Giuseppe Valentini. Inside you can admire the four stained glass windows designed by Domenico Ghirlandaio and several of the frescoes by Michele Colombe.
Church of St. Augustine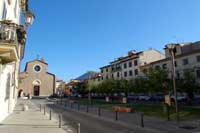 Located in the square and was built by the Augustinians in 1271. The exterior is characterized by pebble stone and brick, with a large and robust bell. Inside are works of great value as the 'alms of San Tommaso di Lorenzo Lippi and several frescoes dating from the fourteenth century.
Chiesa di San Domenico
It too is located in the square and is the classic example of the church "beggar", where a austere architecture will switch to strong decorative elements. Inside you can admire the crucifix on the table Lorenzo di Niccol? and a Madonna and Angels of Joseph Pinzani. In the church were buried some celebrities as Benedict Bacci and Cesare Guasti.
From the church, you have access to the convent that now houses the Museum of Mural Painting, where there are frescoes and sinopie among which works by Paolo Uccello.
Chiesa di San Francesco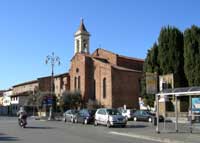 Located in Piazza San Francesco is built on a piece of land donated to the Franciscan friars from the town of Prato, following the canonization of a saint. The church has a facade Bicroma which stands out the relief in stucco, the Stimmate of St. Francis, Andrea della Robbia.
Even the interior is characterized by a series of works of great artistic importance as the fifteenth table with the monogram of Christ and the monument sepulchral depicting Geminiano Inghirami, of Pasquino from Montepulciano.
Church of the Holy Spirit
It is located right in the center of the city, in Silvestri and was completely renovated around the eighteenth century. Inside you can admire a Presentation in the Temple, attributed to the workshop of Filippino Lippi and the Visitation of Nicholas Latini. Of particular importance Pentecost is to Santi di Tito el 'Annunciation of Francesco Ferrucci.
Churches and Monuments of Prato