The Monuments of Prato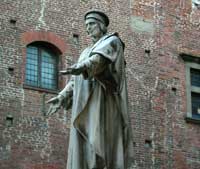 On holiday in Prato will offer a tour to discover the major monuments of the city, known for the works, architecture and different styles of the artists who collaborated to make Prato one of the richest historical towns of Tuscany, from a cultural and artistic.
Palazzo Datini
This is the home of merchant Francesco di Marco Datini. E 'consists of two core areas and decoration Interior painting was given to Nicholas Piero Gerini. In the second group in particular, has access to state funds that preserves important as the archive Datini the most complete existing mercantile register, which includes the entire economic history of all the late Middle Ages.
Piazza del Comune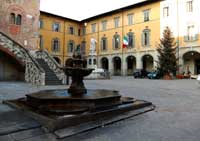 Created around the end of the thirteenth century, is the ideal center of the city and originally was a real market square. Around the square are important buildings like the Palazzo Comunale, where they are preserved frescoes by Pietro da Miniato, and the Palazzo del Popolo (Pretoria).
Palazzo Pretorio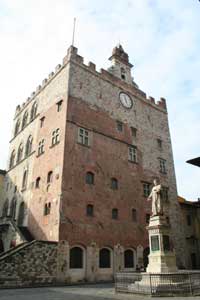 Praetorian Palace is located in Piazza del Comune, next to the statue of the well-known merchant Francesco Prato Datini, designed by Antonio Garella.
This is a great building in medieval style, with red brick century era.
He was immediately adorned with family coats of arms of the mayor, as it was in use at the time. Inside are preserved frescoed rooms of Peter and Anthony of Miniato since 1921 and houses the Museo Civico.
This is the only example of architecture of central Swabian.
Piazza Mercatale
This is the most famous Piazza di Prato. Center of social relations and market place in the square are the most characteristic craft shops and houses in the city. Today the square is subject to a proposed redevelopment.
Palazzo Vestri
Built on draft Valentini Palace presents a neoclassical style with Renaissance traits. Of belonging to its family, the building presents an architecture quite bare and austere.
Castle of the Emperor
It represents the most solid architectural style born under Frederick II. The project architect was Richard Castle from Lentini, who structured the construction on four towers that showed the main points. Since 1975 the castle of the Emperor is open to visitors and hosts several