Lawn and surrounding area ...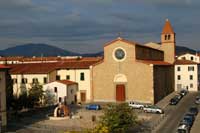 The province of Prato is situated in the center of the area north of Tuscany and is composed of seven main towns: Cantagallo, Carmignano, Montemurlo, Poggio a Caiano, Cantagallo and Wells.
On holiday in Prato then, tourists will choose to stay in the city, or decide to discover these small municipalities, which encompass history and ancient traditions.
Tourists should know that Prato, known especially for working with textiles, has been since the Middle Ages the focal point of Tuscany, with many factories and industries increasingly on the rise. Even the neighboring territory it has assumed a role iportante for the development and maintenance of economic development and historic city.
From the magnificent Romanesque churches of Carmignano, the medieval villages of Poggio a Caiano and still beautiful landscape views of the Val di Bisenzio are what tourists find in your stay in Prato, an 'indisputable mix of history, culture, art and beautiful landscapes.